Are the fossil-rich cliffs at Miguasha really called the Hugh Miller Cliffs?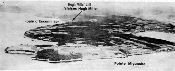 (40 kb)
To answer that question, we must revisit a series of events that took place at the beginning of the 20th century. John M. Clark, director of the State Museum University in New York, had taken several trips to the Gaspé region in the early 1900's and was particularly familiar with the Miguasha site having stopped there a number of times, including during the 12th International Geological Congress hosted by the Geological Survey of Canada in 1913.
In 1914, Clark proposed to the Commission de Géographie du Québec (the geographical survey of Quebec) that the Miguasha cliffs be named after Hugh Miller (1802-1856), a much-admired Scotsman. Miller was a quarryman before becoming a geologist, and he helped make famous the fossilized fauna of the Old Red Sandstones.
The Survey's bulletin of January 1915 reports that Clark's request was well-received by the organization, and on March 18 of that same year, the Survey's president, Mr. Rouillard, requested advice regarding the proposal in a letter to the members. Among the respondents was Arthur Amos, head of the
Service Hydrolique du Québec
, who agreed with the idea, but suggested that the word "cliffs" be replaced with falaise or rochers, the French terms for "cliff" and "rock face".
It seems, however, that the dossier was dropped after that. In fact, the verbal proceedings of the Survey's meetings on June 23 and September 9 later that year make no mention of Clark's request or of its acceptance.
However, in his 1923 book
L'Ile Percé
, Clark refers to the rock face by the name of "Hugh Miller Cliffs", suggesting he was unaware that his proposal was never officially accepted. Despite a few mentions in specialized documents, the name never entered into public use. Added to this was some confusion between the Escuminac Formation, which forms the Miguasha cliffs proper, and the Bonaventure Formation, the sequence of conglomerate rocks of Carboniferous age that overlie the Escuminac Formation and bear the famous crimson colours of the Old Red Sandstones.
Nevertheless, there are a number of geological and paleontological similarities that connect the greyish Miguasha cliffs with the red cliffs in Cromarty, Scotland, where Hugh Miller devoted himself to unveiling the Devonian fish of the Old Red Sandstone. And of course the link goes beyond the physical, as it is also true that some of the inhabitants of Miguasha and the Gaspé region are of Scottish descent, thereby reinforcing the historical ties between the two locations.