Where the Ristigouche River estuary joins the Baie des Chaleurs, its banks are made of sedimentary and volcanic rocks that represent almost the entire Devonian Period.


(76 kb)
These geologic layers form a large, gently folded U-shaped structure called the Ristigouche Syncline. The southern flank of this structure is found in New Brunswick and the northern flank in Quebec.
The two youngest Devonian rock formations in the region are the Fleurant and Escuminac formations, both located in the Miguasha area on the Quebec side. These two formations are always found together, and even have a similar mode of deposition. This intimate association is underscored by the union of these stratigraphic units into a single geological group, the Miguasha Group.
The Miguasha Group is particularly well exposed along the coastal cliffs at the southern tip of Miguasha Point, and on Pointe à Fleurant at the eastern extremity of the municipality of Escuminac.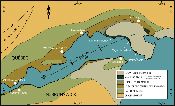 (52 kb)
The notion that the Miguasha Group only outcrops in this one geographic area has persisted for more than a century. But recent discoveries of Fleurant and Escuminac outcrops have been made at the eastern tip of the Ristigouche Syncline, north of Miguasha Point, and 40 km further east in the valley of the Grande Cascapédia River near New Richmond. These discoveries have forced geologists to change their earlier perception.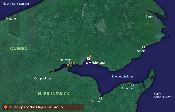 (44 kb)
The Escuminac and Fleurant formations were part of an extensive sedimentary system that formed while the Appalachian Mountains were still in their final stages of uplift. The ancient Miguasha estuary covered a large area along the margin of the young mountain chain, so perhaps it is no exaggeration to compare this estuary to those of the Mississippi, the Amazon, or even the Nile. The ancient estuary occupied a lowlands zone, which later hosted a great alluvial plain that extended into an arm of the sea during the Carboniferous Period.